Do you ever just look at your rooms and wonder how did these toys and clothes and things just take over the house?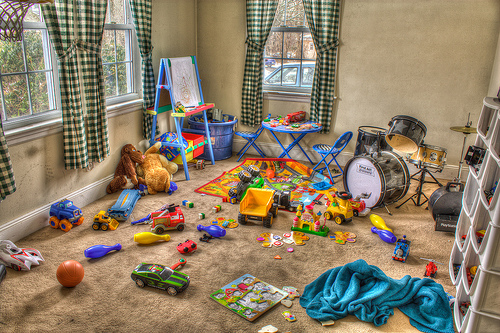 It's pretty amazing how much stuff you can accumulate with a young one. This is where it started for us. We dived in and bought a few things for the big guy as a baby and now we're on child #3 we've realized we've steadily grown into a receptacle for all the kids things.
What happened?
We do clean. We do fun. We tidy as and when we need. Most of all we do play. Ample times of it.
I have very fond memories of doing activities with my parents and spending time with them talking and walking. Will our children have these types of memories with us?There are so many things fighting for our time and it's sometimes hard to just play with the kids right now. You have that online bill to pay, another load of laundry to sort, get dinner organised, work. It gets harder to just stop. There's a consequence.
When you look back on 2011 how do you feel about your play life? Did you have time for you? Did the kids have your time when you were present? I don't advocate for balance as in equal time for each person ( you and the kids) but I do find there is power in knowing what you spent your time on and seeing if it truely is what you want to spend your time on. Then moving towards the place of comfort for you.
Two tools to help you with improving your play and getting yourself organized.
Tsh of Simplemom.net has the ebook One bite at a time. An invaluable book to own to help you make sense of what has happened to our homes along with practical ways to manage it, simply. I love how you can dip in and choose a section and not be overwhelmed.
It's allowed me peace to find a way that works for our family. It means I have more time to choose to do things I would like to do. I still have a long way to go but having a start and a reference point is helpful in my helplessness. Tsh is running a special until January 10, 2012 of $4 using the coupon code : HAPPYNEWYEAR. Buy now.

Looking back on your play life and really seeing what you've done. I think many of you will be surprised at how much play you have done. It'll probably be more than you expected. How will you know though? At this time of year, we're all writing our SMART goals or have written them already. Maybe you've had little success with resolutions and prefer to skip them altogether. There are so many categories like,
Career
Financial
Education
Family
Spiritual
Artistic
Attitude
Physical
Pleasure
Public Service
As you write your SMART goals and choose which areas to cover consider a play evaluation. I have it here to download as a pdf.
Take stock of where you are in your play journey and plan for times this year when you can just play.
Have time to read more?? Here are some of the most helpful articles and audio I have discovered:
Do you have a play goal you would like to share?
Click here to read the rest of the posts in the series, 31 Days to a more Playful Tot.
If you enjoyed this post make sure you are subscribe to my mailing list with encouragement and ideas for Simple Parenting