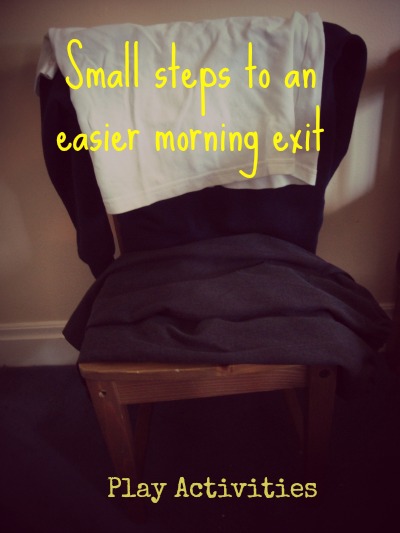 With three children to get out the house, I needed an update to the ' getting the kids out the house' routine. Also known as the morning exit!
Before, with two children to get to school, it was easier as they fell into two distinct camps.
One who was task driven; what do I have to do and let me do it. One who would experience and notice everything. He was easily diverted, distracted or waylaid by frankly anything.  With a third added to the mix I wanted the LO to choose the good habit of routine but risked his exposure to the his brother and his slower paced method.
Not underestimating the power of their personalities I felt it was better to have tried, tried and tried than to have never tried at all. It would do  everyone good to have a better routine, including myself.
Perhaps you're in a similar situation with children who need to get on a school bus? Or you need to make it out the door to drive to school with everyone- no latecomers, get to the drop off at preschool, daycare, or work each weekday  morning without it turning us all into a bad version of Good cop/bad cop.
Try these 7 steps to making the routine stick with young children because who wants to start the day in a fluster of emotions everyday when there are other ways.
1. Evaluate what worked and the hotspots
Before the back to school season started, I took some time to go over what worked in the morning and what didn't. With so many school days and preschool days behind us, it was easy to see really without much thought that early breakfast worked and there was always a mad scramble at the end for all the things you need to leave the house like bookbags, coats, shoes. The bathroom was a fun place to hangout and had become a major hotspot.
2. Change, adapt and visualize a better way
Do more night/evening prep.
Get things ready by forecasting the day ahead.
It's often a question we ask at dinner or as we're finishing up the routines in the evening. With each child we guide them through what they'll be doing tomorrow. We've  tried many different ways including role play the ideas, talk them through- whatever has worked we try and repeat.
First you…… get up
Yes. and you get big mummy kisses…then…..get washed…
In the morning they can set off because you start them off with how you visualised it with them the day before. By saying, first you……
3. Work with your child's strengths to make the routine work long term
We like charts and have tried picture and written charts before. This year we're trying both magnetic and picture charts. It keeps them on target and allows us to say what is your next thing instead of have you done  x,y, or z.  Plus it's harder for things to get missed out when there's a logical sequence, even if you do things out of order we can stick to a plan.
The book fairy comes around most morning to magic away tempting books still out from the night before. I love that the children read books but in the morning it's something that will regularly derail every one of them.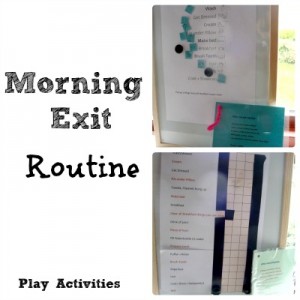 4. Adapt … be consistent
Parts get lost on the chart .
Parts get skipped.
There are days when it comes together and the next day… it's not so good.
But keep going.
This is the single hardest thing to do;  encourage them and yourself by being adaptable and keep going. I needed to be alert, ready and encouraging.
5. Ask for help
Last week I asked on Facebook and Twitter about a problem in the routine.
Can't tell you how hearing that advice has changed this hiccup in our routine for the good.
6. Gradually disengage
By far the trickiest part is slowly letting the little ones own the routine. It's tricky because it depends on so many things including bad days, changes to routines and general- I don't want to do it tantrums. It really can be that they can get their clothes on today but tomorrow everything is on but backwards ( This happened today!) Persist.
7. Keep going……
Tomorrow is another day…. a little bit of descriptive praise, deep breaths and a morning smile so you're ready to start all over again. Building consistently pays off for their independence and our sanity.
 What part of the morning exit do you most want to change?