[tag]Sensory[/tag] playtime [tag]contest[/tag]
***********************************************************************************
Sunday 16th December 2007: This contest is now closed. Winner will be chosen this week. Winner announced on Friday. Thanks
***********************************************************************************
So now you've read the articles and you've got all these ideas about Sensory play to do with your toddler and preschooler right?
Sensory play is one of those topics many parents know about but don't do much about past the baby stage. I hope these articles have shown you that Sensory [tag]play[/tag] is a lot of fun and a great learning and sharing opportunity that's easy to do at home with your child under 5.
With that in mind , here is my first contest.
What you'll win
[tag]Sensory garden dome[/tag]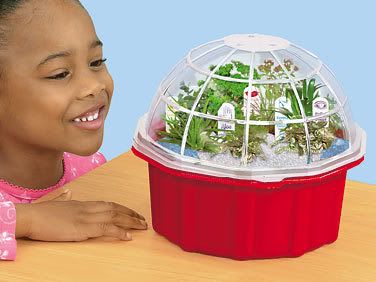 Easy-to-grow seeds and a self-contained terrarium let kids grow their own [tag]indoor garden[/tag]…filled with plants that explore the 5 senses! The plastic dome comes with soil, labels for each plant and more…plus 5 exotic varieties of seeds, including herbs for taste, aloe for touch, eucalyptus for smell, a polka dot plant for sight and a rustling cabbage palm for sound! 9″ wide.
How to enter the contest?
Read the 6 sensory play articles by Elaine Lambe. See related posts at the bottom of this post for direct links.
What's your favourite sensory [tag]play activity[/tag] for children under 5?
Write the answer in the comments below for one entry.
Write a blog post and trackback to this post or tell me where to look for two entries.
Subscribe via Feedburner. Never miss another blog entry, for one entry
US Daily and weekly subscribers to the Play activities email before the date and time of this post get two automatic entries.
Rules
Maximum of 6 possible entries available per person.
Collected entries will be collated and then picked by the big guy. Probably via his famous throw it up in the air method and try and catch a falling entry.
Contest open to US residents only and/or those with a valid US address for shipping. ( Yes to APO addresses)
Deadline is 10pm MST December 16th 2007
Entrants must use a valid email address when writing a comment, as this is the one I'll use to contact you about your shipping address and to let you know you've won! No reply within 5 days and I'll pick a new winner.
Please do not leave your email address in the main body of the comment. Don't want you getting spammed now. Only I can see the email address.
Prize is new and unused. No cash alternative. Winner gets it shipped to them.